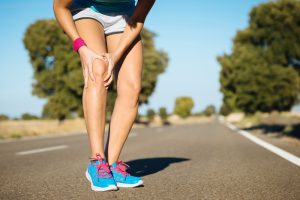 Many people wonder how they can use hyaluronic acid to help with their joint pain from osteoarthritis. At Vitae Healthcare Center in Stamford, CT Dr. Stec and her staff of functional medicine doctors can clear up any questions you have help you on your way to pain-free joints with hyaluronic acid injections. 
What is Hyaluronic Acid?
Hyaluronic acid is a clear, gooey substance that is produced by our bodies. Normally it is produced in small amounts and helps our skin maintain moisture and our joints to stay lubricated. The aging process, or damage by the sun, can reduce your body's output of this substance in certain areas like your skin.
How Can Hyaluronic Acid Help Me?
Hyaluronic acid injections are used to help people who are suffering from joint pain associated with osteoarthritis. This is especially helpful for larger joints like the knees and shoulders. Pain associated with osteoarthritis is often due to a lack of lubrication on the affected joints. Dr. Stec and her functional medicine doctors at Vitae Healthcare Center in Stamford, CT can set you up with a consultation to see if hyaluronic acid injections are right for you.
What Else Can Hyaluronic Acid Be Used For?
Aside from alleviating joint pain, hyaluronic acid can also be used for it's healing properties. It has antibacterial properties as well and it can be applied to an open wound to hasten the healing process. The acid signals to the body that more blood vessels are needed and it reduces inflammation.
Is Hyaluronic Acid Safe?
Hyaluronic Acid is a naturally occurring substance in our bodies so it is generally safe to supplement. Studies have been done and observed no negative side effects although it has not been thoroughly tested on pregnant and breastfeeding women so caution should be practiced. It has been shown to cause existing cancer cells to grow more rapidly but not cause them in the first place. If you have any questions about whether hyaluronic acid is safe for you to use call Dr. Stec in Stamford, CT.
We Serve Stamford 
Stamford is located in Fairfield City and has over 129,000 residents. We're proud to take care of our community and treat health concerns for those that live here and nearby areas. The city is the third-largest in the state and about 30 miles from Manhattan. It's part of the Danbury-Bridgeport-Stamford-Norwalk metro area. 
Call Today!
Don't miss out on the benefits hyaluronic acid could provide you. Call Dr. Stec and her functional medicine doctors at Vitae Healthcare Center in Stamford, CT today!