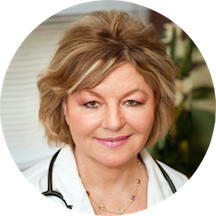 Dr. Stec is the founder of Vitae Healthcare Center in Stamford, Connecticut. She graduated from the Lublin Medical Academy in Poland and became board certified in ophthalmology. After arriving to the United States, she passed the required licensing examinations and went into residency training in Family Practice and in Anesthesiology.
Journey to Functional Medicine
She opened up her General Medicine practice. She has received extensive training in anti-aging medicine, through A4M, and also through the Institute for Functional Medicine.  With over 30 years of clinical experience, you are in good hands at our clinic.
Her interest and transition into the field occurred more than a decade ago and started when she experienced her own health decline and chronic fatigue. Since her concerns weren't addressed with a traditional approach, she started thinking that there has to be something else out there. What she found was something better.
Education
Dr. Stec started attending anti-aging and alternative medicine conferences. As she dove into functional and biomedical treatments, she realized that she has entered another world that medical school did not expose her to. After applying these treatments and witnessing their effectiveness herself, it made obvious sense to her that it was the right approach for many health issues.
Dr. Stec continues her education by attending several conferences and by gradually shifting her practice into Functional Medicine.
Call us Today
If you are looking for functional medicine near me, call our office today. We will set you up with an appointment right away.
Dr. Stec's practice is mainly focused on people who suffer from painful chronic degenerative and autoimmune conditions, including gluten sensitivity and food allergies.
Are you looking for a functional medicine doctor near me? Dr. Stec's functional medicine practice is a great place to come when you are looking for functional medicine vs. integrative medicine answers. We are thrilled to provide you with the help that you are looking for when it comes to your health.